The business environment is extremely competitive these days. Businesses are having a tough time coping with it. So, they are embracing digital marketing strategies to reach a wider audience within a short period. Lead generation is one facet of digital marketing.
Nowadays, marketers are deviating from conventional ways to reach buyers. They are not any more inclined to find consumers with email blasts or mass advertising. Instead, they aim to build a continuous relationship with buyers. According to the experts of a digital marketing agency in Kolkata, one of the prime ways to attain this objective is lead generation.
What is lead generation?
In simple words, it is the process of generating new leads for your organization. The lead generation process enables marketers to convert the interests of potential customers into sales. Leads are the potential customers from your target audience who are genuinely interested in your product/service. Without leads, a business won't get the chance to convert prospects to consumers. So, the marketers hire professional lead generation companies where the experts can execute their tasks in the best fashion.
Some digital marketing experts believe that digital marketing is difficult and time-consuming. However, it isn't all the time. There are several ways to generate leads, and these days, numerous tools have evolved that can speed up your lead generation process. Get in touch with the best digital marketing agency in Kolkata to know more about this process.
What are the different types of lead?
Before delving deeper into the aspect of lead generation, it's important for you to know the five different types of leads that can be productive for your marketing and sales team. Let's have a look:
New: It refers to any potential customer you have an idea about.
Working: A lead with whom you are having an ongoing conversation.
Nurturing: A lead that isn't inclined in buying at this moment, but maybe in the future.
Unqualified: A lead who isn't enticed by your offerings. Hence, it is also termed a dead lead.
Qualified: Also known as a sales lead, it is a lead whose interest lies in doing business.
What are the ways businesses can generate leads?
The emergence of various digital platforms and social media channels has helped businesses in myriad ways. The advent of lead generation tools has made the task easier for marketers, but the fundamentals remain the same. When the task is all about lead generation, it is even more relevant. So, let's explore the various ways by which organizations offering digital marketing services in Kolkata can generate leads:
Content marketing
Search Engine Optimization
Social Media Marketing
Webinars
Email marketing
Affiliate schemes
Referral schemes
Which businesses need lead generation?
Any organization that requires customers to thrive in the market will need lead generation. Most businesses like retailers or service providers are completely dependent on customer revenue for survival. If they want to keep their doors open, a lead generation process is the only way out. Since different businesses have different approaches, it is difficult to give a one-fit-all answer. However, there are certain common aspects like email marketing, social media marketing, and SEO campaigns focused on keyword optimization.
Some quick hacks to generate leads for your business
In the words of experts of a digital marketing agency in Kolkata, lead generation isn't a difficult game if you are acquainted with the following hacks:
Target particular keywords with your content marketing strategy.
Develop buyer personas and revisit them after regular intervals.
Quality matters more than quantity, and your focus will be on engaging leads, rather than only including names in your database.
Pick the popular social media platforms for showcasing your products.
Creating an email list that captures the contact information of visitors.
Focus on your budget when it is about showcasing your products/offerings on paid advertising platforms like Google or Facebook.
Make the most of podcasting to cement you as an expert in the domain.
Connect with industry influencers.
Benefits of lead generation
Lead generation strategies come with certain benefits as listed below:
Boost brand awareness: It is the measure of how many individuals among your target audience are acquainted with your brand. If more people are familiar with your brand, it means your brand has a better reputation. Your profit potential will also be greater in this case.
Generate high-quality leads: Every business focuses on building high-quality leads. It's the very reason they resort to the best digital marketing services in Kolkata. A good lead generation strategy will attract visitors to your site, but an excellent one will go beyond that and convert the leads into potential customers. The prime benefit of lead generation is that it helps your brand to attract certain consumers. In other words, you attract those individuals who you think are relevant to your product/service.
Cost-effective: Lead generation is a cost-effective approach as it helps you to control your budget and use your money to attract the most relevant audience. The difficulty in acquiring the lead determines the cost per lead. When the source is easier, the price is usually lower. You should know that higher quality leads result in higher conversion rates. Effective digital marketing strategies enable you to target certain groups of customers who you think are the most suited for your product. Also, these leads have an increased chance of converting into sales.
Provide business opportunities: Lead generation isn't only about finding prospects, but it can also provide you with several business opportunities. A digital marketing agency in Kolkata providing lead generation services can be of immense help for you in this regard. For instance, a non-competing brand in your realm is hosting a webinar. By teaming up with that brand, you can reach their audience. This mutually beneficial partnership will generate more leads.
Contributes to cash flow: Cash flow is integral to the success of your organization. When the lead creation process is executed correctly, it can drive revenues for your firm by a significant margin. Most importantly, you need to turn website traffic into paying customers for the success of your organization.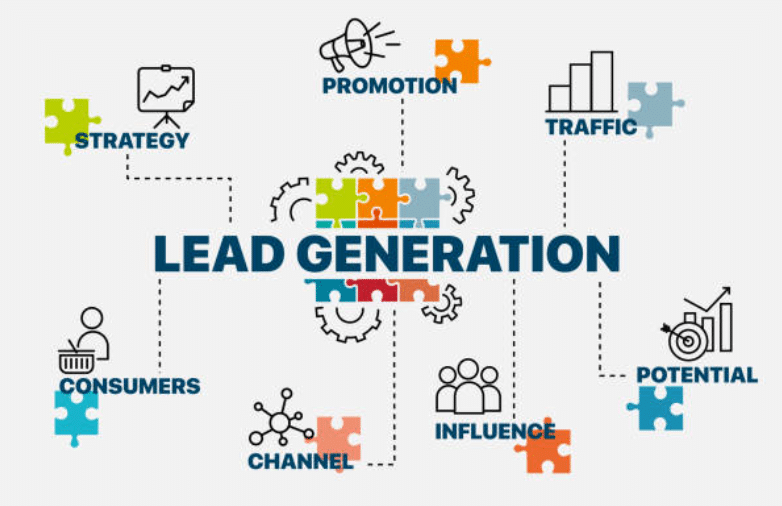 Challenges in the lead generation process
Given below are some of the challenges that you may face during the lead generation process:
Picking a workable strategy: The common obstacle that most digital marketing agencies in Kolkata face during lead generation is getting access to the right plan that may grab the attention of people.
Getting the right people : After figuring out your strategy and plan, you need to ensure that the content reaches the "right" people. It's advisable not to waste your time, money, and effort on the wrong people.
Measuring and documenting your effort : Now that you have the perfect strategy and the right people, you have to decide whether your efforts are successful or not. Besides this aspect, you also have to measure and analyze your efforts. This will give you insights into the business processes while permitting you to alter things if needed. With the services of the best digital marketing agency in Kolkata, you can channel your efforts in the right direction.
Responding to queries: After getting a lead from someone, you can't keep them hanging. Respond to their inquiries within the shortest possible time. If you don't respond quickly, the query will go out of your mind, and people will also lose interest in you.
Producing relevant content : People don't read your content for pleasure, but to extract certain information from it. So, make sure the content you put on the website offers value to readers. Yes, you have to craft the message in an artistic fashion, but at the same time, you can't forget that you have to do the same in the simplest possible manner.
Importance of lead generation for businesses
Lead generation is integral for businesses of all sizes. Without leads, organizations will have a tough time expanding their operations and boosting their sales. Effective lead generation strategies drive a huge number of visitors to a site. Here, marketers get the chance to convert their leads into customers. Hence, a large number of marketers opt for digital marketing services in Kolkata to gain a competitive edge in the market.
Nowadays, buyers are smart enough to know about a product/service before conversing with a salesperson. So, a profound lead generation campaign on digital channels is likely to make a business succeed. This has urged several companies to rethink their marketing strategies. The conventional process of acquiring leads doesn't hold sense anymore. The companies that are unable to embrace transformation are feeling the heat these days.
The Takeaway
If you want to expand your business, the simplest formula is to find new clients and make them happy. But before that, do keep in mind that you won't get customers without generating leads. Without leads, you don't get access to potential customers, and if you don't have customers, you won't make any money. So, hire a digital marketing agency in Kolkata where the experts can turn things in your favour.
The process of lead generation may seem easy but there is also a trickier side. Most marketers face internal hindrances while trying to generate leads. It's the reason why organizations resort to lead generation agencies to do the job. So, what are you thinking about? Come up with innovative and more importantly effective lead generation strategies to gain the upper hand in this competitive business sphere.
Are you trying hard to generate leads for your business? Well, there is some good news for you! Carney Technologies Services, being the best digital marketing agency in Kolkata comprise experienced professionals who have tons of knowledge when it comes to lead generation. They know the nuts and bolts of lead generation that are bound to give your business a boost in the digital realm.