B2B content marketing strategies need to be decidedly different from B2C content marketing. It calls for careful planning, execution and management right from the creation to the promotion.
Business-to-Business marketing (or B2B marketing as it is commonly known) refers to the marketing efforts of a business to promote its products or services to other companies and organizations. This is inherently different from regular consumer brands that sell directly to the consumers (B2C marketing).
To begin with, the target audience is obviously poles apart – B2B marketing targets those who control the purchase decisions of the business, from managers and executive decision-makers to other influencers as well. The key drivers that impact the sales are markedly different –
B2C purchases are more personal and triggered by emotions like status and popularity apart from the price. B2B decisions are less personal and based on price, return on investment and profit potential.
While consumers choose products quickly and their purchases have low impact, B2B buying decisions have a much longer purchase cycle due to a thorough research of the available options.
The product or service is of primary importance to consumers and they seek good deals or entertainment value. On the other hand, business purchases are primarily based on relationships, with efficiency and expertise being most important.
B2B marketing has a smaller and more focused target market than the wide and general net of B2C marketing. However, in the former there are many more stakeholders controlling or influencing the purchase decisions.
It is clear that the needs and challenges of a B2B marketing audience are strikingly different from the more frivolous decisions of B2C audiences. Therefore, businesses have to keep the different factors in mind when marketing directly to other businesses.
Furthermore, while there are varied channels for B2B marketing, it has been proved that content marketing is the most effective for generating leads, educating prospects, driving target audience to the company's digital assets, building engagement, converting website visitors and increasing sales. After all, it is regular and updated content that forms a connect with the customers, affords organic visibility and drives inbound traffic. Along with this, it also aids in building brand awareness, developing brand trust and strengthening brand loyalty all around.
The 2018 Content Management & Strategy Survey pinpoints the top five benefits of content management as – extended reach of content (57%), improved ability to provide the right content to the right person at the right time (50%), greater facility in repurposing and reusing content (48%), enhanced customer experiences due to improved interactions (45%), and improved workflow (40%).
In fact, the digital realm is brimming with content opportunities that B2B companies can tap into with targeted marketing efforts.
Mapping out a successful B2B content marketing strategy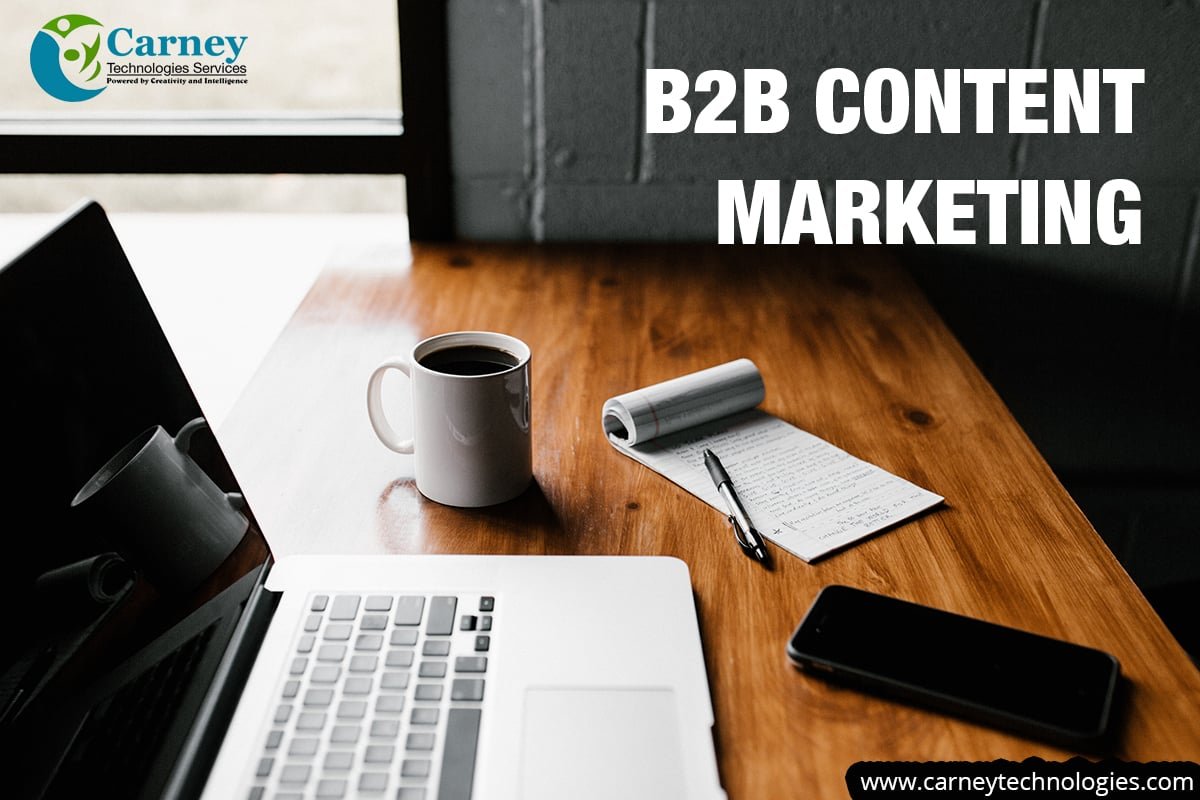 Define the audience – It is crucial that B2B marketing should clearly identify their buyer personas. Getting to know the targeted corporate decision makers will enable the business to speak to them directly with relevant and useful messages. Going ahead, segmenting the target audience into groups of specific people based on their stage in the purchase funnel is quite useful.
Diversify the content formats – It is true that written copy is a mainstay of B2B content marketing. However, to be truly effective, the marketing strategy has to incorporate a studied mix of different content formats like case studies, infographics, images, podcasts and even videos. This kind of multi-layered content will send across a strong and influential message to the audience.
Choose mix of channels – There are various digital channels for launching the content to the target audience. While it is essential to identify the preferred channels of the target audience, sticking to a single avenue can prove to be a sticking point. For example, blogs are a bastion of content marketing; however companies cannot afford to ignore the burgeoning power of social media networks today. A recent survey organized by Chadwick Martin Bailey and iModerate highlights that businesses are more likely to buy from companies they track through social media.
Tailor the content – In general, B2B marketing content is more straightforward and informational about the company's expertise, industry trends, latest market research, etc. as the bottom-line revenue impact is what is driving the purchase decisions. It is a fact that the high-quality messaging should be unique and cutting-edge, offer tangible value (in the form of information or new insights) and speak directly to the targeted audience in their language. However, it also needs to adopt a humorous and entertaining vein that will keep the readers engaged. At the same time, it should also be compelling enough to induce them to take action.
Moreover, personalization and relevance is key here. The narrative should be creatively crafted to fit the mindset of the audience, the context of the content and even the platform where it is being delivered. For instance, a copy angle that works to ensnare readers on LinkedIn will not be able to hook someone scrolling through FaceBook! Throwing in an interactive element will make the content all the more appealing.
Measure the campaign performance – After the most diligent planning and execution, the B2B marketing strategies need to be assessed to comprehend whether they are actually resonating with the audience or not. Tracking the marketing against established metrics is essential to gauge the true success of the campaign. It will allow you to tweak your strategies and efforts to get the best results. After all, it is data-driven B2B content marketing that proves to be the most successful!
In sum, B2B content marketing is most effective, but a highly challenging domain as well. It calls for focused and comprehensive efforts, preferably by a professional content marketing agency in Kolkata. The skilled experts can analyze the business and its requirements in detail before crafting a meticulous B2B marketing strategy with new, useful and relevant content ideas on a regular basis.
Carney Technology Services (www.carneytechnologies.com) is a leading digital content marketing in Kolkata that offers comprehensive, customized and effective B2B content marketing solutions for all types of businesses.